Here at Terryberry, we're always looking for ways to better serve our customers. We know that keeping an employee recognition program running smoothly is no easy feat, and that repeat questions and requests for help is one of the fastest ways for a program admin team to burn out.  That's why we're excited to announce the addition of Zendesk to 360 Recognition.
What is Zendesk?
Zendesk is an automated help desk system that will live in the bottom right corner of your recognition program.  Employees in need of assistance will have access to a dynamic database of platform knowledge.  Employees will be able to find answers for dozens of frequently asked questions, and as new questions come in, the automated answer database will continue to grow.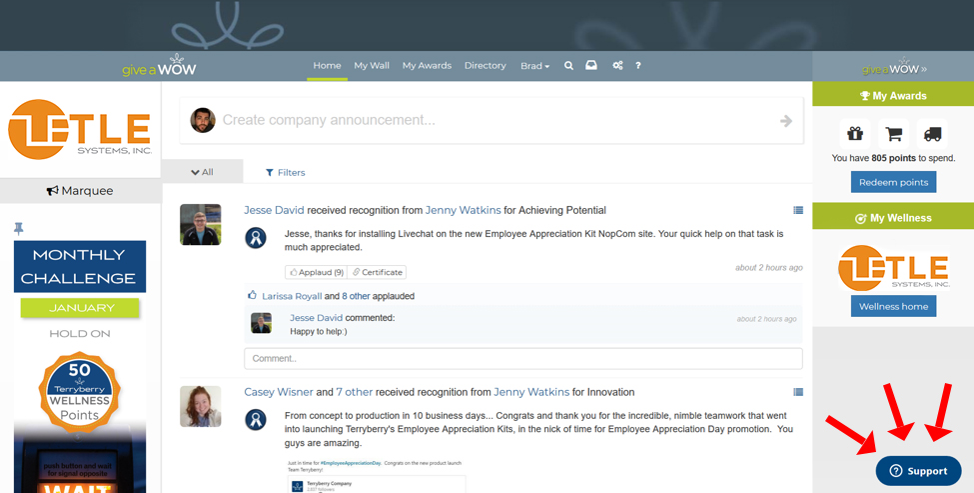 Have a problem that Zendesk can't answer?
Don't worry, we're on the job. Through Zendesk, you'll be able to create a ticket that is forwarded directly to our customer service team.  Simply fill out a quick form, providing your contact information and the details of your problem, and we'll tackle it and respond as quickly as we can.
We know how important excellent customer service is to relationships with our clients, and to the success of your employee recognition program. It's one of our core values here at Terryberry. That's why we're so excited to be able to roll out this new support feature, making help more accessible than ever before, and removing some of the administrative burden from your program admin team.
Our rollout plan begins with a limited rollout to Beta Testers on February 3rd.  If everything goes according to plan, we'll be releasing Zendesk support platform wide in March.  If you have any additional questions or concerns regarding Zendesk functionality, please reach out to your 360 Recognition Specialist.