Employee Appreciation Day is March 5. Terryberry wants to help you make your employees feel seen and appreciated. We know this is more important than ever in a challenging year when many employees have gone beyond the call of duty. See below how you can easily and thoughtfully arrange an Employee Appreciation Day gift for your employees. We've also shared some great best practices and helpful resources to guide you in making this day a memorable one.   
Customers in the USA with a Terryberry program can simply choose the gift option that fits your budget, and Terryberry will do the rest. Learn more.
$15 Stainless Steel Tumbler. This 20 oz. double wall tumbler will keep your favorite chai hot for 10 hours and your favorite energy drink cold for 18 hours. Features a commemorative Employee Appreciation Day 2021 logo.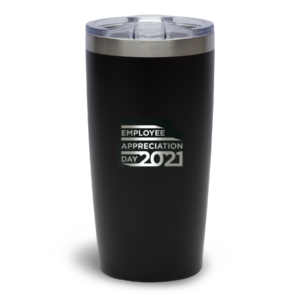 $30 Backpack Cooler. Backpack Cooler. This durable backpack holds up to 24 cans, has a zippered main compartment with a removable clear insert, front pocket with buckles, two side pockets, side D-rings, metal hardware, bottle opener, and adjustable padded backpack straps. Features a commemorative Employee Appreciation Day 2021 logo.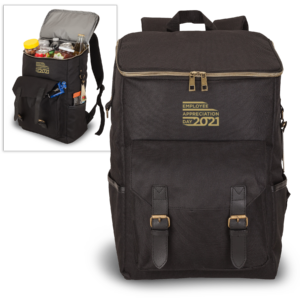 AwardChoice Customers
We've put together two gift options at two price points to select from. Your employees will receive a branded email notification letting them know they received an Employee Appreciation Day gift and to redeem their gift by a certain date.
AwardPoint Customers
If you are looking for a contactless Employee Appreciation Day option, you can give a gift of AwardPoints to your users on 360 Recognition. Many of our customers are choosing to gift their employees with $25 worth of points to celebrate. However, you can choose any value you wish.
Terryberry will deposit the points automatically into your platform users' accounts. Users will receive a notification that they've earned points as an Employee Appreciation Day gift. Terryberry can also customize the appreciation message.
Give Points for Employee Appreciation Day>
Gifts can Ship in Bulk or Directly to Your Recipients
Get your Employee Appreciation Day gifts delivered in bulk to your organization. Save on shipping and provide a personal delivery experience. 
Or, if you have an AwardChoice.com program, you can choose contactless home delivery: Recipients receive an appreciation email with a link to a branded redemption site where they specify their personal delivery address — a great option for remote employees!
---
If you need more ideas to show your appreciation, here are 4 unique ways we are seeing organizations honor their people on Employee Appreciation Day in the year 2021.
Sincere and Specific Words of Gratitude
Showing appreciation doesn't have to cost anything but time. CEO's, Managers, Co-workers: take a moment to tell someone why s/he is important. It will never be time wasted. Need some inspiration? Check out this list of appreciation words to help you find the right way to say thanks.
Personal Support
In a year when many are struggling with uncertainty, offering personal support and being willing to follow-through is a gift that may be life-giving. Consider building support groups or common interest groups in your organization. It will likely be helpful for everyone, and especially those whose main source of support is their coworkers.
Drive-Thru Appreciation
Need a solution for contactless appreciation? Consider a drive-thru appreciation event. Have your executive team mask up, put on gloves, and hand out appreciation gifts to employees as they drive through.
Download Terryberry's ebook "5 Ways to Ensure Your Virtual Recognition Event is Meaningful" for more tips and ideas when face-to-face interaction isn't an option.
Wellness, Healing, and Restoration
Let's be honest, could all use some rejuvenation. Maybe Employee Appreciation Day is a good day to send everyone home an hour early to get some "me" time.   Or, even better, maybe it's an opportunity to give your staff a break in their schedule to do some service to others in need.
It's an honor to help you create moments of appreciation in your workplace on Employee Appreciation Day and every day.