Have you ever wanted to share the praise you received at work with your friends and family? What about sharing some of the great things happening at work on your company's social media page? With 360 Recognition's updated Social Sharing feature, now you can!
Until recently, 360 Recognition allowed employees to opt to share all of the recognition they received at work with a few select social sites.  This feature worked well and was often very popular with our customers who permitted their employees to use it, but unfortunately, it was limited and didn't allow for selective or corporate sharing. But we've fixed that and made sharing recognition with external social networks easier than ever.
With 360 Recognition's new Social Sharing options, users can decide to share their recognition on a post by post basis, directly from their inbox or the wall.  Simply click the "Share" button beneath the post, and decide where you'd like to post your recognition.

A window will open showing you how the post will be formatted when its shared and giving you a list of possible places to share the recognition you've received.  Options include Facebook, Twitter, LinkedIn, Google Plus, a link you can post anywhere, a text message, an email, or Facebook Messenger. Each post will include your organization's logo. You may have to sign into your outside social media account in order to share directly to that profile.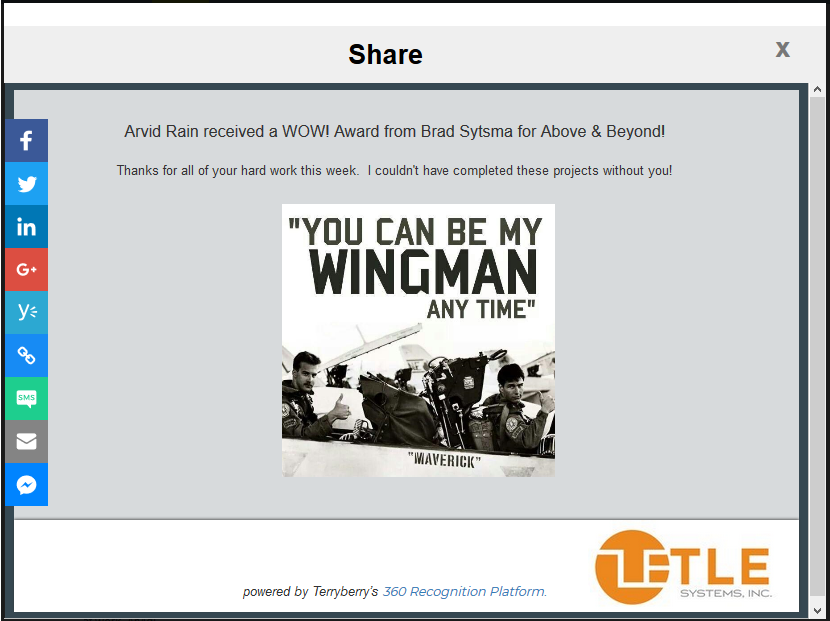 Once shared, friends and family will be able to see the recognition and pile on their praise for a job well done. Users will only be able to share Recognition that they have received, or sent (with an additional permission).  An additional permission can be given to Program Admins or select individuals, like your marketing team, who can share any recognition post from your 360 Recognition program.
If you've ever sat in on a 360 Recognition webinar or demonstration, you've probably heard us say that the main objective of the 360 Recognition platform is to actively engage individuals in a recognition culture built around your organization's mission, vision, and values. In a highly competitive marketplace, where it can often be difficult to attract and retain the top talent, praising employees and promoting their success through your corporate social media becomes an invaluable tool. News feeds are flooded with stories of the experiences that people have had with businesses and employees. What better way to represent your company, your employees, and your commitment to excellence as an organization, than to share the achievements, accomplishments, and impacts that your employees are making on the world around them every day?
Posts on other social media sites will be formatted as a link that opens the recognition in a new tab. Posts that include images will display the image above the link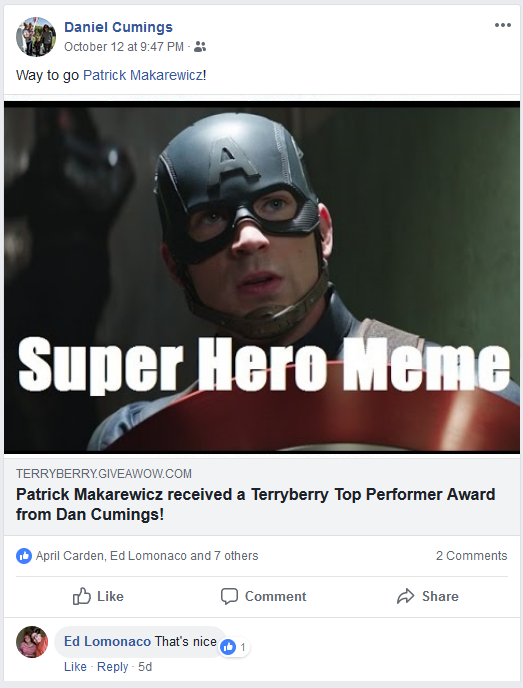 Ready to start sharing the praise? Reach out to your 360 Recognition Specialist to activate this new feature today!